Help & FAQ
Booking
Do I need to book a boat tour?
No, you do not need to book a boat tour for reservations under 150 people. You can purchase tickets directly from the ticket office before your cruise, 15-20 minutes before the desired departure time. Tickets purchased at the ticket office or online are valid for 2 years and can be used on a date and time of your choosing.
Do I need to book for Dining?
Yes, you must book to make sure you get a table on-board.
How long until my reservation is confirmed?
For reservations made by telephone, confirmation of your reservation is sent immediately by email. For reservations made online, an email will be sent within 24 hours of confirmation of payment.
What payment methods are accepted?
For payment in person: cash and bank cards (Visa, Carte Bleue, Eurocard-Mastercard, American Express) and various Gift Vouchers (Best, Cadhoc, ANCV travellers cheques, Tir groupé, Havas, JCB card). These vouchers cannot be used via the internet, change will not be given and they do not give the right to any discount on the public price. For payment online: Visa cards, Carte Bleue, Paypal, American Express. Payment over the phone: bank cards (Visa, Carte Bleue, Eurocard-Mastercard, American Express), bank transfers and vouchers (Best, Cadhoc, ANCV travellers cheques, Tir groupé, Havas, JCB card).
Can I pay in person for a Dining Cruise?
Yes, you can request to pay the full balance in person when making your reservation by telephone. Payment can be made by any of the different accepted payment methods. For online reservations, payment is taken immediately.
Can I cancel or get a refund?
Reservations can be cancelled up to 72 hours in advance of the cruise date and can be refunded. If the service is not cancelled within this time limit then a refund will not be given. However, in the event of cancelling between 72 hours and 24 hours before the service, the date may be changed or postponed by a maximum of 6 months and subject to the availability of Compagnie des Bateaux Mouches.
Can the number of a group of people be changed?
The final number of guests must be confirmed no later than 3 clear working days before the cruise date and cannot be reduced by more than 10%. The number of guests may be increased but only subject to prior approval.
Cruises
Are the menus translated into other languages?
Oui, tous nos menus sont traduits en 10 langues : Français, Anglais, Allemand, Italien, Espagnol, Portugais, Russe, Chinois, Coréen et Japonais.
Where can I buy the photos taken before or during the cruise?
For boat tours, you can purchase your photographs on the pier upon leaving the boat. For the restaurant, request your photos directly on-board.
Can I reheat a baby's bottle on-board?
Yes, bottles can be reheated on request during Dining Cruises.
Are there vegetarian menus available on-board?
Yes, there are vegetarian options available for each menu (starter, main course and dessert).
Are there alcohol-free menus?
Yes, alcoholic drinks can be substituted for water and soft drinks on request.
Do you offer any menus for special dietary requirements?
Yes, our vegetarian dishes are also vegan, gluten-free, lactose-free, egg-free and nut-free.
Can children attend a Dining Cruise?
Yes, children are welcome on-board. We provide special lunchtime menus for €29 and evenings at €68.
Do the Dining Cruises include a guided tour?
Out of respect for our guest's enjoyment of their meal, guests are provided with route maps and our personnel is on hand to answer any questions you may have.
Is dancing allowed on board the dining cruises?
Every lunch and dinner cruise has live entertainment (accordionist at lunchtime, violinist and pianist in the evening) and the dancefloor is open to all guests.
Is there a dress code for the Dining Cruises?
Smart-casual dress is required at lunchtime. Smart dress is required in the evening. Guests will not be admitted on board wearing: sportswear, flipflops, bermuda shorts, baseball caps ... The management reserves the right to refuse access on board out of respect for its guests.
Where do the boats depart from and return to?
Our port of embarkation and disembarkation is the Port de la Conférence located at the Pont de L'Alma, on the right bank. Parking is available for guests or you can use one of the several means of public transport available nearby.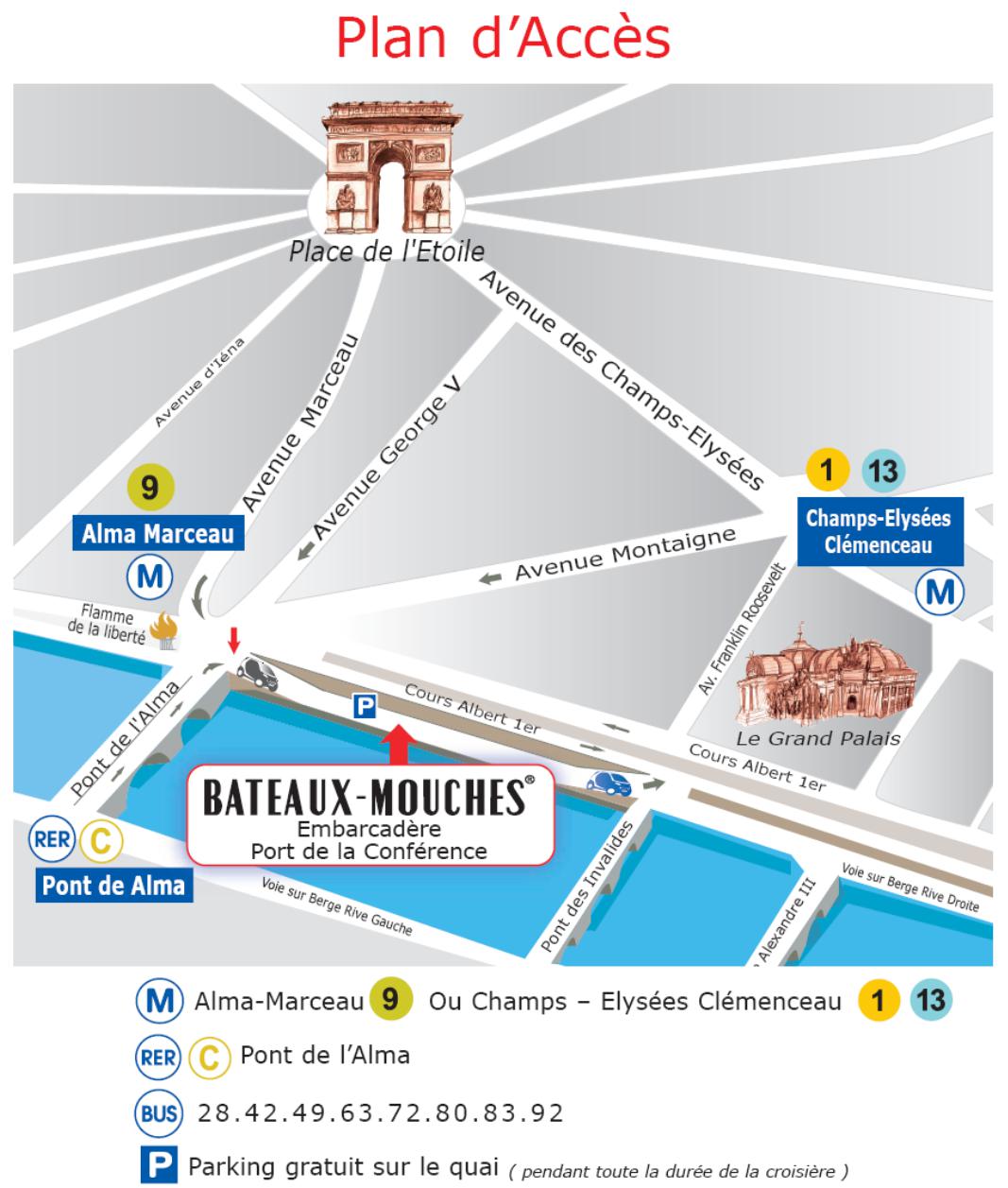 Are there any stops along the River Cruises?
No, the length of the boat tour is 1 hour 10 minutes without stops. It leaves from and returns to the Port de la Conférence, Pont de l'Alma, right bank.
What services do Bateaux Mouches provide on bank holidays?
We have special menus for the following events:
- a Dinner Cruise on Saint Valentine's Day: 14th February,
- a Dinner Cruise for the French National Holiday: 14th July,
- a Dinner Cruise for Christmas Eve: 24th December,
- a Lunchtime Cruise on Christmas Day: 25th December,
- a Dinner Cruise for New Year's Eve: 31st December
These dates are extremely popular so booking is essential. The special menus can be viewed online.
Are animals allowed on board?
No, for health and safety reasons our boats do not allow any animals on board, with the exception of guide dogs.